When economic conditions are changing quickly, what is the best upstream indicator of future workloads for architecture and engineering professionals?
To drive your strategic growth planning, you need early stage data on not just the entire A/E marketplace, but specifically on which markets are hot and which markets are not.  Marketing spending, M&A investments, and strategic hiring all need this data (not guesses) to drive results.  While data on overall construction activity and billings are helpful, these are actually lagging indicators because they refer to work already in-progress or completed.
Only proposal activity is the true leading indicator for A/E business!  To help you to chart out your firm's future, we've been producing our popular Quarterly Market Forecast on A/E proposal activity since 2003. This report is published every quarter and provides you with a first-hand look into a wide range of key client markets like healthcare, transportation, and many others.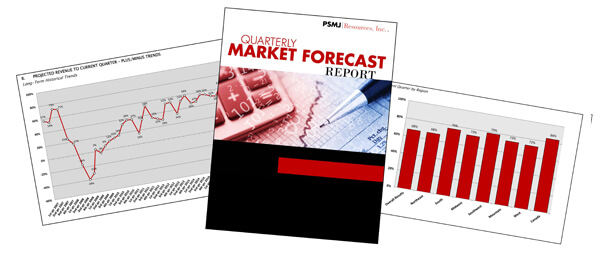 What makes the Quarterly Market Forecast even more unique and valuable?  It is produced based on proposal activity data from architecture and engineering firm leaders just like you! That means that your participation is vital to keep this data relevant and meaningful. Now more than ever, you need this data at your side to provide clarity and confidence in an uncertain world.
You can get your hands on PSMJ's Quarterly Market Forecast in three easy ways:
1. Participate.  Participation is fast and easy (five minutes max!) and is the ONLY way to get this mission-critical A/E/C market research data…absolutely FREE! Click on the button below to be notified when participation opens for the next survey period.

2. Join.
 PSMJ members get each and every
Quarterly Market Forecast
report (and a whole lot more) in the online portal as a part of their membership.  Click on the 'Join Now' button below to start your PSMJ membership.

3. Purchase.
  You can purchase the latest available
Quarterly Market Forecast
report and get instant access to this valuable market movement data.