Is your A/E/C firm searching for sustained growth and stronger profitability? A fresh strategic plan from the experts at PSMJ could the only thing you're missing.
The most effective strategic plan for your A/E/C firm informs every executive decision, maximizes competitive advantages, and leverages your unique strengths. Are you operating with a plan that incorporates new business realities, opportunities, and challenges?
If you haven't updated your plan in the last 12 months, talk to the experts on PSMJ's A/E/C Strategic Planning Advisory team, and together we can position your firm for superior performance.
Learn more about how PSMJ's A/E/C Strategic Planning Advisory Team, partnering with your firm's senior leadership, can help you create new blueprint for growth and profitability.
To put your firm on the road to sustained growth and profitability, start with a proven strategic plan development process created just for A/E/C firms.
The classic 12-step strategic planning approach taught in business schools is far too generic, slow, and costly for today's A/E/C firms. That's why PSMJ's proven process, developed and fine-tuned over many years and through hundreds of engagements, is nimble, flexible, and tailored to the unique challenges of this industry. It cuts to the heart of issues to put a superior plan in place faster, starting with research and preparation, leading to a facilitated strategic planning retreat and plan implementation assistance.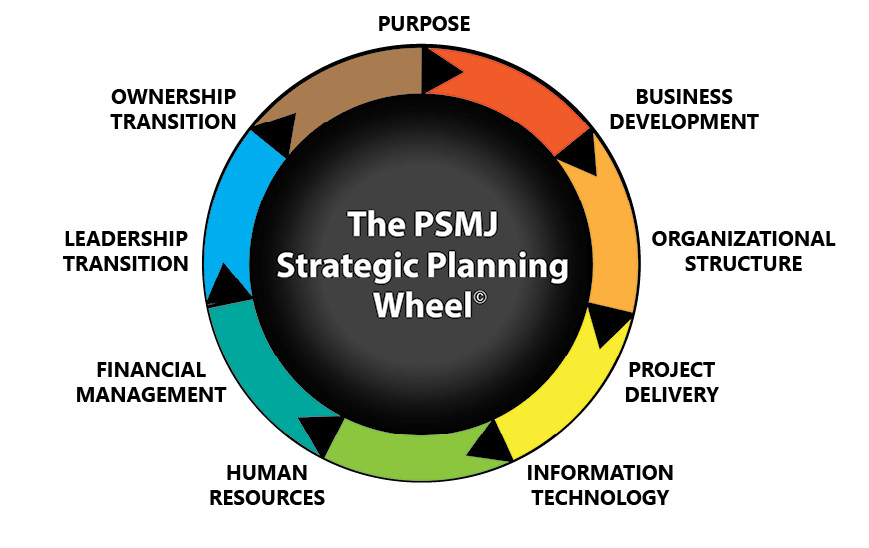 PSMJ's A/E/C Strategic Planning experts help you answer the big 3 questions that determine the trajectory of your firm's growth curve, and execute essential tasks that emerge from that discussion.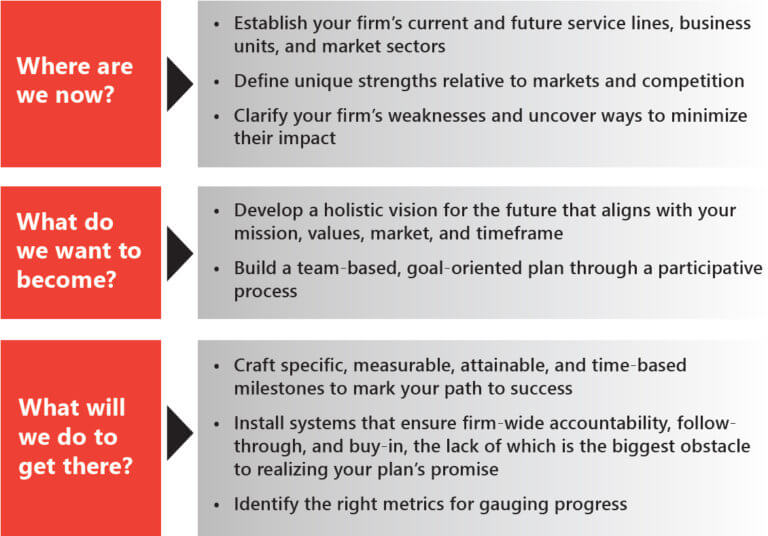 FREE GUIDE:
Bring your A/E/C firm's growth plan into sharper focus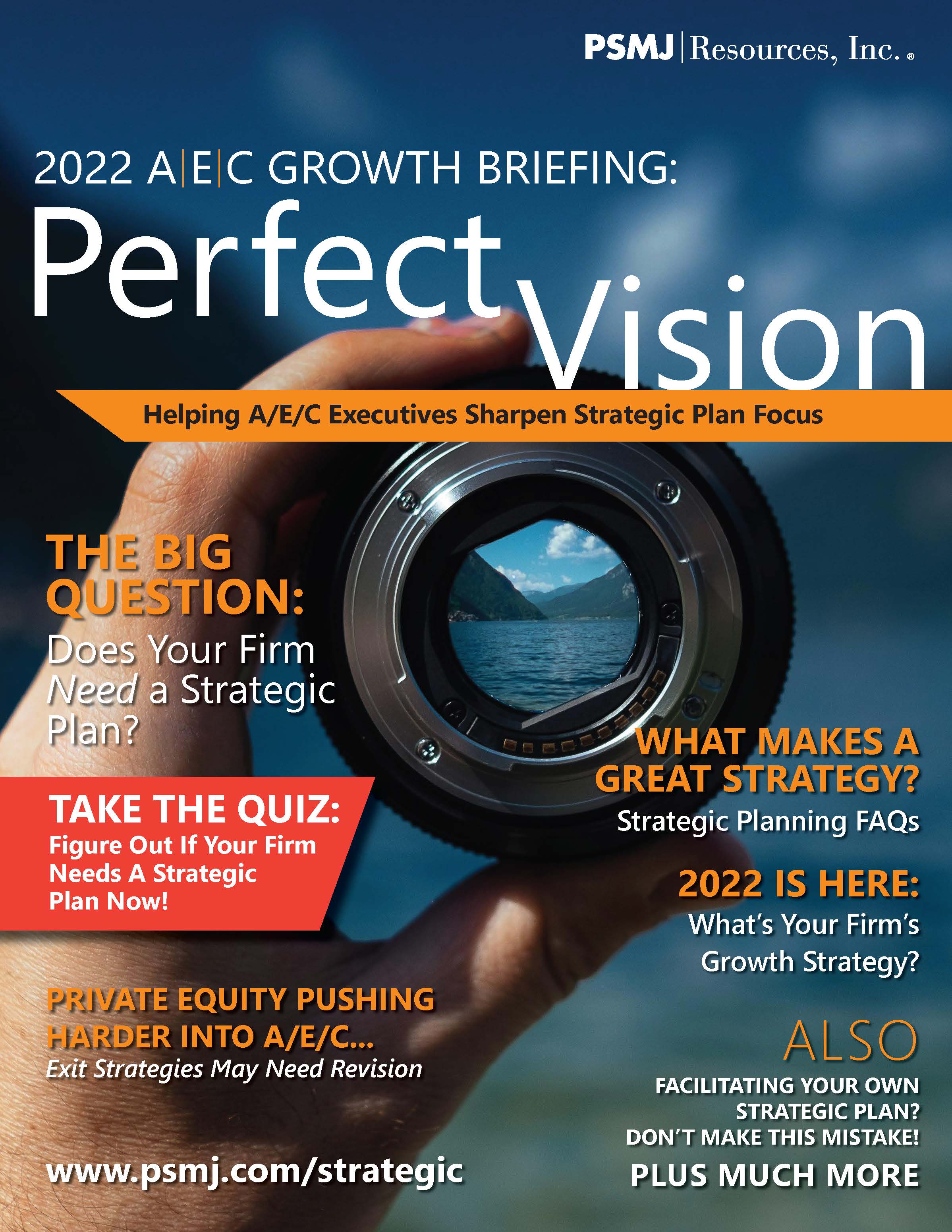 Why PSMJ Resources Strategic Planning Advisors?
"It's tough to herd cats, even harder when they are smart. PSMJ did a masterful job. Everyone was energetic and engaged throughout and it exceeded our expectations. The facilitation was great."
Monica Wagner, M.E., P.E.
Vice President / CEA Engineering Group
"Our association with PSMJ has transformed our company. Their insight and expertise are really unparalleled. Tangible plans, tangible metrics, and tangible results. We would not consider anyone else when it comes to sustaining and/or growing our business and our business practices."
Sam Dawson, P.E.,
CEO / Pape-Dawson Engineers
"I really enjoy working with PSMJ. They understand the dynamics of people and our specific needs. PSMJ really is part of the Great West Team."
Daniel M. McCauley, P.E.
President Emeritus / Great West Engineering
A/E/C industry experts—At PSMJ Resources, the A/E/C industry isn't just another client sector; it's our only business focus.
More than three decades of strategic planning advisory experience—Our deep roots in the design and engineering industry mean you benefit from our unmatched data and experiences that have helped hundreds of A/E/C firms plan for strong, lasting growth.
Consultants that bring real-world experience— PSMJ consultants have successfully managed top design and engineering firms and deliver proven advice and real-world solutions.
Industry-leading benchmarking data—PSMJ financial performance and compensation surveys have the highest participation rate and provide comprehensive results, so that your strategic plan is built on accurate, defensible data.
Exclusive industry insights—PSMJ researchers track A/E/C quarterly results by specific markets and submarkets, generating the most current business forecasting intelligence and allowing us to align recommendations with both near and long-term realities.
By identifying a destination, establishing milestones, and driving a singular firm-wide commitment to getting there, the A/E/C Strategic Planning Advisory team at PSMJ has helped hundreds of architecture, engineering, and construction firms transition from middle of the pack to market leader. Working together, we can do the same for yours.

12 Signs Your A/E/C Firm Needs a Strategic Plan... NOW.
Your firm grew too much too fast — and you've hit a wall

A new generation of employees is asking where your firm is heading — and you're not sure how to answer

The owner of the firm plans to step down — and no one is prepared to fill that void

You can't answer the question: "what do we want our firm to look like in five years?"

You want to grow into new geographic markets — but don't have data to support smart choices

Your firm's communication structure struggles to clarify goals and expectations

You plan on selling your firm — but don't know when or how

You want to add new services — but aren't sure of the risks and rewards

Job roles are not defined — and your best employees are risking burn-out

You merged with another firm — but the pieces aren't aligning like you expected

Your strategic plan is more than five years old — and doesn't work in current markets

You've never crafted a strategic plan — and wonder why you struggle to stay profitable
Any of these sound familiar? Schedule your no-obligation discovery call to learn how PSMJ's strategic planning advisors can help you set a growth goal and achieve it.

Copyright © 2022. All rights reserved.