Is your A/E/C firm on the road to sustained growth and profitability?
Get the latest tips and more on A/E/C strategic planning!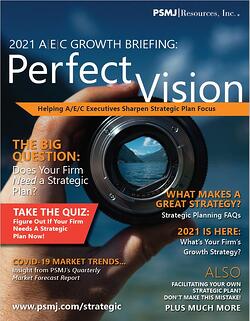 Signs Your Firm Needs a Strategic Plan NOW!
Your firm grew too much too fast — and you've hit a wall

Strategic Planning Process

A new generation of employees is asking where your firm is heading — and you're not sure how to answer
The owner of the firm plans to step down — and no one is prepared to fill that void
You can't answer the question: "what do we want our firm to look like in five years?"
You want to grow into new geographic markets — but don't have data to support smart choices
Your firm's communication structure struggles to clarify goals and expectations
You plan on selling your firm — but don't know when or how
You want to add new services — but aren't sure of the risks and rewards
Job roles are not defined — and your best employees are risking burn-out
You merged with another firm — but the pieces aren't aligning like you expected
Your strategic plan is more than five years old — and doesn't work in current markets
You've never crafted a strategic plan — and wonder why you struggle to stay profitable
An effective strategic plan is your carefully developed written description of where your firm is going and how it will gain competitive advantage by capitalizing on unique capabilities. So, what should your path to success look like? Engaging PSMJ to guide your firm through the strategic planning process means positioning it for strong, lasting growth and profitability. Working together, we answer the following big-picture questions by breaking them down into more manageable actions: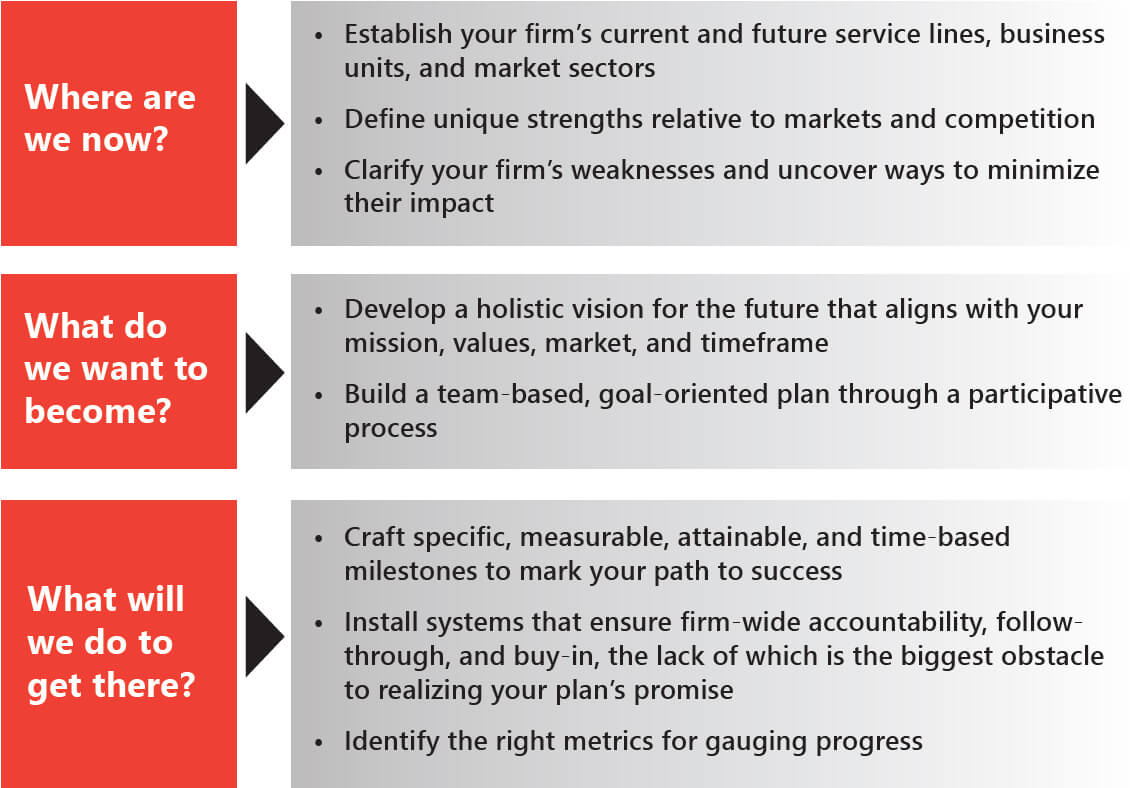 Our Approach
The classic 12-step strategic planning approach taught in business schools is too generic, slow, and costly for today's A/E/C firms. PSMJ's proven process — developed and fine-tuned over many years through hundreds of engagements — is nimble, flexible, and tailored to the unique challenges of architecture, engineering, and construction firms.
Our approach begins with a comprehensive assessment of your firm from a variety of perspectives — including your employees, clients, management, and financial performance indicators. The data yields insight into your firms' strengths and weaknesses. Once identified, these concerns can dictate how time is allocated during the two-day retreat. To ensure your strategic plan actually happens, PSMJ offers one year of assistance following the retreat.
Is your A/E/C firm overdue for a strategic plan?
A flawed or insufficient strategic plan can have costly implications at your firm! But, the clues that you are due for a new plan or a plan update aren't always obvious.  Take this simple six-question quiz to find out if a strategic plan needs to be on your to-do list!

Why PSMJ?
A/E/C industry experts — At PSMJ Resources, the A/E/C industry isn't just another client sector; it's our only business focus.
More than three decades of strategic planning advisory experience — For over 30 years, our deep roots in the design and planning industry have helped hundreds of A/E/C firms plan for strong, lasting growth.
Consultants that bring real-world experience — PSMJ consultants have successfully managed top design and engineering firms and deliver proven advice and real-world solutions.
Industry-leading benchmarking data — PSMJ financial performance and compensation surveys have the highest participation rate and provide the most comprehensive results, so your custom strategic plan is built on accurate, defensible data.
Exclusive industry insights — PSMJ researchers track A/E/C quarterly results by specific markets and submarkets, generating the most current business forecasting intelligence and allowing us to align recommendations with both near and long-term realities.
Customized plan of attack — Combining input from you, your employees, and your management team, we carefully curate your strategic planning retreat agenda to maximize its effectiveness.
Obsession with client satisfaction — At PSMJ Resources, your satisfaction is the core mission. Strategic planning engagement evaluations are scrutinized at the highest executive level and incorporated into continuous process improvement.

Want To Learn More?
Download PSMJ's Strategic Planning brochure or email us at consulting@psmj.com to learn more about how PSMJ can put your firm on the road to success.
About Our Experts
Don't hire a consultant who will learn the A/E/C business at your expense. Ask the hard questions to find someone you can trust to get it right. You can get to know some of our strategic planning experts here:
Additional Resources
If you are looking for a more intentional and sustainable pathway to growth, check out these additional resources on strategic planning for architecture, engineering, and construction firms: