Ownership and Leadership Transition Services
Don't leave your future, or your firm's, to chance, or your exit plan vulnerable to a sub-optimal outcome. For over 45 years, the transition experts at PSMJ have been helping A/E/C owners and principals craft and implement plans that meet every objective. From nurturing future leaders to setting up ESOPs to drafting buy/sell agreements, no one drives successful A/E/C ownership and leadership transition planning like PSMJ.
Learn more about how the experts with PSMJ's A/E/C Ownership and Leadership Transition Planning advisory service stand ready to help you execute the perfect exit strategy.
It is never too early to make plans for your firm's success after your departure.
Architecture, engineering, and construction firm owners who fail to plan properly on ownership or leadership transition are leaving their firm exposed to the potential for undesirable outcomes – including significant loss of firm value, brand equity deterioration, and loss of market position. But, more than just the "transition plan" itself, the details of the execution in the context of changing market conditions and a host of other variables provide plenty of opportunity for plans to stall or fail to realize the desired results.
The Ownership and Leadership Plan Advisory Team at PSMJ has over four decades of experience successfully assisting A/E/C owners achieve win-win outcomes that secure equity, security, and legacy. Working with top managers and principals, we help craft and execute plans that:
Adequately reward and compensate equity holders for their investment

Provide tools to motivate and incentivize up-and-coming leaders
Keep the firm well-capitalized and protected from the risks associated with unexpected shareholder departures
Align with the long-term strategic growth objectives of the company
The most successful design firms weave these objectives into broader strategic planning and everything that they do. In addition to starting with a well-conceived plan, closely-monitoring execution and remaining agile in the face of changes are keys to success.
Nobody knows the A/E/C industry like the transition planning advisors at PSMJ and we bring that insight and perspective to every client engagement. Just some of the areas where we can assist are:
Business valuation
Ownership and leadership transition modeling and feasibility testing
Ownership transition plan assessment and troubleshooting
Buy/Sell agreement review
FREE A/E/C BUY/SELL CHECKLIST and SAMPLE AGREEMENT!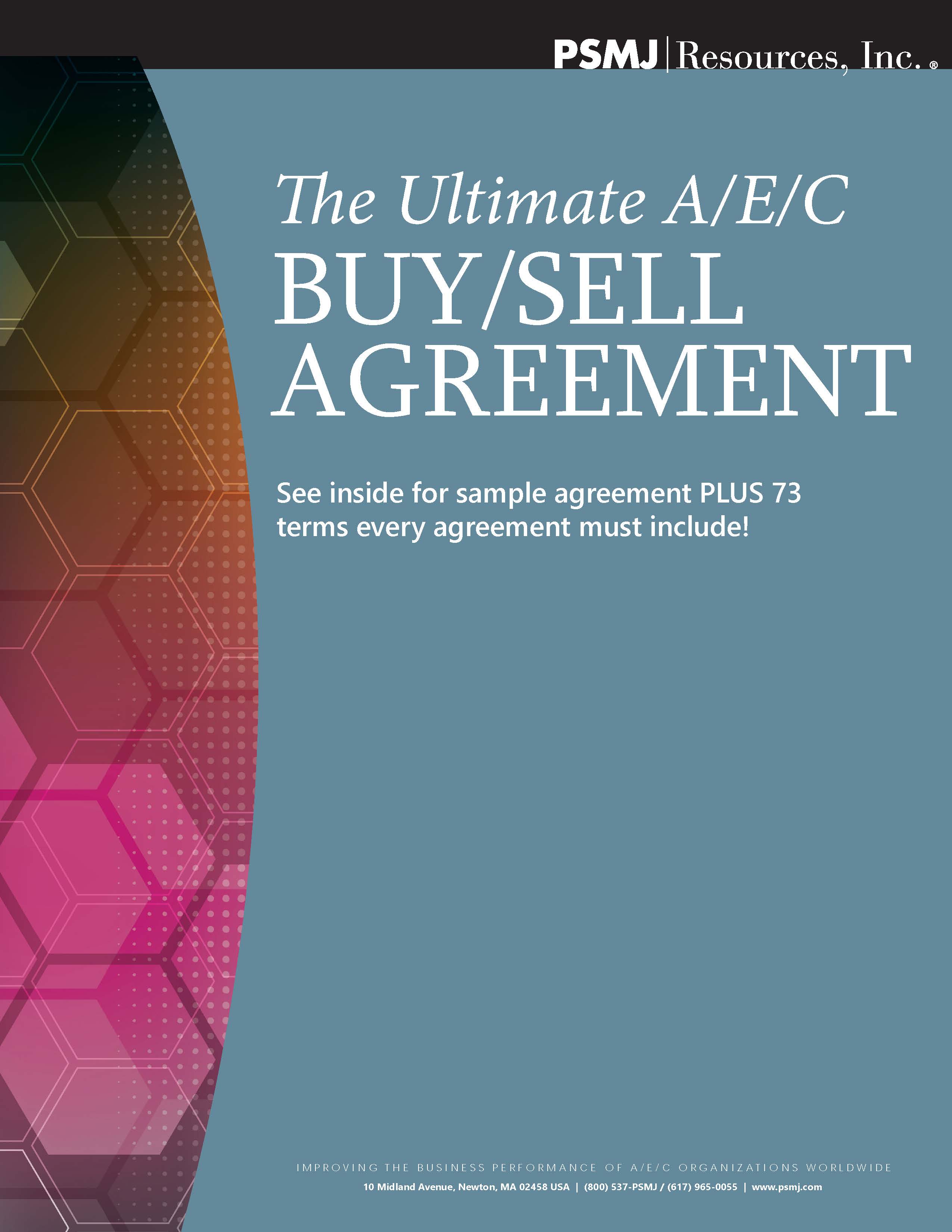 This handy 42-page reference includes the 73 buy/sell agreement terms no A/E/C firm sale or ownership transition can succeed without PLUS a sample buy/sell agreement. Download NOW!
Is your firm headed towards a costly ownership dispute?
Over 30+ years of advising A/E/C firms on ownership transition and reviewing 1000s of buy/sell agreements (aka Ownership Agreements or Partnership Agreements), we've collected some of the most painful and costly flaws that land too many A/E/C firms into expensive and damaging disputes. Is yours on the road to disaster? Take a quick five-minute anonymous and confidential yes/no quiz to see how your agreement stacks up!

Copyright © 2022. All rights reserved.