Latest survey of architecture and engineering executives points to only minor construction delays and some markets seeing robust proposal activity
April 7, 2020 (Newton, Mass.) – Countering uncertainty and confusion roiling world markets and economies, hard data in the just-released Quarterly Market Forecast, from leading architecture, engineering, and construction (A/E/C) industry research and consulting firm PSMJ Resources, Inc. details the exact near-term and long-term impacts of the COVID-19 crisis.
Published consistently since 2003, PSMJ's Quarterly Market Forecast asks A/E/C executives about their projected quarterly revenue expectations, backlog changes, and their current outlook and proposal activity across major client markets. The data is reported in a Net Plus/Minus Index (NPMI). An NPMI value of 0% indicates an equal number of respondents are reporting growth as are reporting a decline. Data was collected from March 24-30, 2020, which means that COVID-19 impacts were a major factor in this data.
NPMI Values: Do You Expect Q2 Revenue to Increase or Decrease Compared to Q1?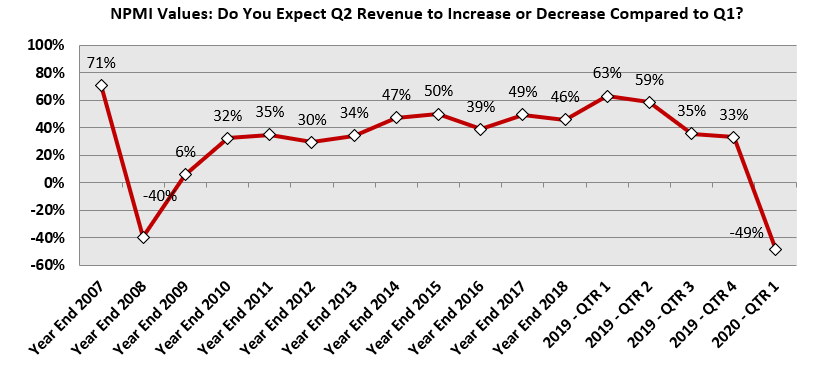 Unlike near-term revenue expectations, proposal activity is the most leading indicator of financial health since proposals lead to backlog which leads to revenue and then cash flow. While Q2 revenue projections show a sharp decline in market confidence, the outlook for proposal activity by client market is more varied.  Proposal activity in the Healthcare market, for example, turned in the highest NPMI value of 27%.  This means that more executives are seeing proposal growth – even in the COVID-19 crisis – than those who are seeing decline.  On the other end of the spectrum, the Commercial Development market came in at a -51% NPMI value – a clear indication of near-term trouble in this market.
Following are the five markets returning the strongest NPMI values: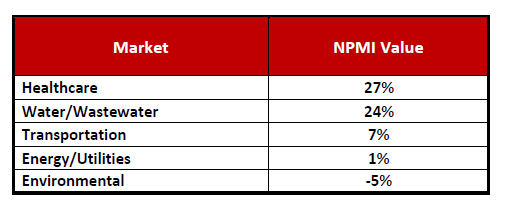 "Close analysis of proposal activity reveals very sharp divisions in outlook by markets, some plummeting to levels not seen since the Great Recession." said PSMJ Senior Principal Davis Burstein, P.E., AECPM.  "As A/E/C firm leaders plan for recovery and growth investments such as mergers and acquisitions, it is critically important to align strategic plans with this data."
It is worth noting that PSMJ's research also showed that 61% of respondents reported either none or only minor project delays cancellations due to the virus. Additionally, 81% reported that they have not conducted any layoffs or furloughs due to the virus.  "44 out of 50 states have deemed construction an 'essential' activity" commented PSMJ Founder and CEO Frank A. Stasiowski, FAIA. "Particularly on public-sector and critical infrastructure projects, many of the CEOs we speak with report some near-term constraints due to physical distancing requirements, but they remain bullish about project funding and longer-term growth prospects."
"I expect to see a rapid rebound in housing and commercial development once the health crisis passes and the impact of record-low interest rates starts to be felt," says Burstein. "Pent up demand should make it's presence felt by the end of Q3, and even more so in Q4 if we see movement on an infrastructure bill."
Providing further insight on how the A/E/C industry in North America will be affected by the COVID-19 crisis, Stasiowski recently appeared on the nationally-syndicated business radio program The John Batchelor Show, where he laid out his predictions for near-term A/E/C challenges and opportunities. His interview may be streamed on-demand via Soundcloud: https://soundcloud.com/user-465659173/stasiowski-on-the-john-batchelor-show.
To learn more about PSMJ's Quarterly Market Forecast or to participate in the next survey, visit www.psmj.com/qmf.
About PSMJ Resources, Inc.
For more than 40 years, the mission of PSMJ Resources, Inc. has been to improve the business performance of A/E/C organizations worldwide. PSMJ offers published information, educational programs, in-house training, and management consulting services in Strategy, Business Development, Project Delivery, Human Resources, Financial Management, Mergers & Acquisitions, Transition Planning, and more to A/E/C professional services firms.
For additional information and interview requests, please contact:
PSMJ Resources, Inc.
Gregory Hart
ghart@psmj.com
617-965-0055
www.psmj.com