This easy and industry-specific tool provides powerful job suitability data for your Project Managers
Listen to PSMJ's Vickie Oakley discussing the benefits of the A/E Project Manager Assessment Tool during her recent appearance on the AECPMA Podcast.

For years, we've heard the frustrations of Principals, HR Directors, Training Managers, and many others in A/E/C firms.  They are investing in training and developing their Project Managers, but have no easy way to measure where the greatest needs are, which Project Managers need the most (and least) training, and which individuals really have what it takes become a Project Manager.  So, the outcomes were often wasted training dollars, diminished project delivery performance, and an endless cycle of guessing what the fix is.  And generic personality profiles and tests were of little or no use for architecture and engineering firms.  Until now.
Listen to Chris Martersteck and Reid Tolley discuss the 10 traits to look for in your next A/E Project Manager.

We've partnered with the job success mapping experts at Harrison Assessment to develop a Job Success Formula (JSF) specific to A/E Project Managers.  And it is ONLY available here—from the A/E industry's most trusted name in project management training.

DON'T GUESS WHERE YOU NEED TO INVEST IN TRAINING…MEASURE IT
Working with 100 Project Managers from several different engineering and architecture firms, we conducted research and analysis to see what makes the best Project Managers tick and what skill sets and traits they have in common.  Because of this ground-breaking work, design firm leaders like you can have a practical, cost-effective, and easy-to-use data to guide your training, recruiting, and development decisions.
The innovative work involved correlating the performance ratings of A/E Project Managers allowed us to calibrate 175 work-related traits specifically to this mission-critical role.  PSMJ's A/E Project Manager Harrison Assessment Job Success Formula gives you access to invaluable information such as where your pm candidate or employee stands with:
Essential Traits—Those distinct or different about highly-rated Project Managers.
Desirable traits—Behaviors shared by top performers, good performers, and average performers.
Traits to avoid—Those distinct that are shown by poorly-performing Project Managers. These are the behavioral tendencies that derail one's effectiveness.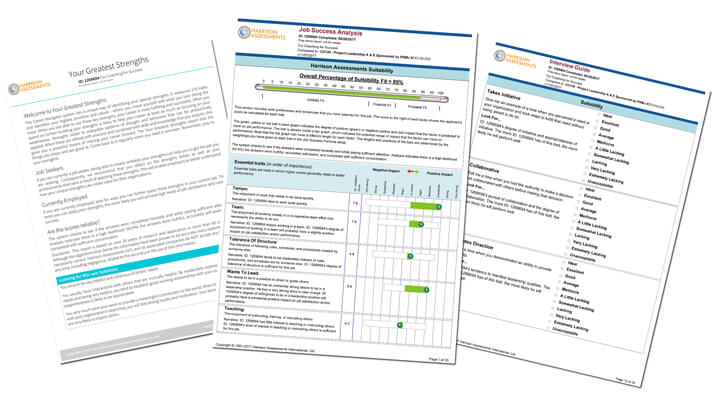 HERE'S HOW IT WORKS
The Harrison Assessment is administered online through a series of questions that require 45-60 minutes to complete.  Once completed, we crunch the data, compare it to the benchmarks, and you get a concise and action-oriented report that outlines:
One simple quantitative score on the overall fit probability for the participant to the role.
Details on how the participant compares to benchmarks on specific traits.
What areas of training and development can have the greatest impact for the participant.
This data allows you to flag skills gaps and pinpoint the support a newly-minted or experienced Project Manager will need to be successful.  Nowhere else can you get this kind of industry-specific data to get the most impact from your training investments.
GET STARTED TODAY!
Our exclusive A/E Project Manager Harrison Assessments are available on an individual basis or at attractive group rates.  To learn more about how to put this tool to work for your firm, click on the button below.

To explore more A/E/C project management training options and resources, please click here.