This easy and industry-specific tool provides powerful job suitability data to help you find your next leadership team
Before you can begin to train and develop future leaders. Before you can invest time and money in high achievers. Before you begin to depend on your choice of high impact individuals. You need to first need to identify who are the firm's rising stars.
Finding those High Potential Individuals in your organization is never easy, but you know that such a critical decision should be less hunch and personal and more objective and unbiased.
To give design firm leaders another tool to help them pick the best emerging leaders in their firms, PSMJ has partnered with the job success analysis experts at Harrison Assessment. Together we have developed a Job Success Formula (JSF) specific to A/E professionals who are responsible for both projects and employees—Business Unit Leaders.
And it is ONLY available here—from the A/E industry's most trusted name in leadership training.
DON'T GUESS WHEN TO INVEST
Working with nearly 100 future leaders from several different engineering and architecture firms, we conducted research and analysis to see what makes the best A/E business leader tick and what skill sets and traits they have in common. Because of this ground-breaking work, design firm leaders now have a practical, cost-effective, and easy-to-use tool to help with the critical decision of who will potentially lead the firm in the future.
The innovative work involved correlating the performance ratings of A/E Business Unit Leaders allowed us to calibrate 175 work-related traits specifically to this mission-critical role. PSMJ's A/E Business Unit Leader Harrison Assessment Job Success Formula gives you access to invaluable information such as where your BUL candidate or employee stands with:
Essential Traits—Those distinct or different about highly-rated design firm leaders.
Desirable traits—Behaviors shared by top performers, good performers, and average performers.
Traits to avoid—Those distinct that are shown by poorly-performing leaders. These are the behavioral tendencies that derail one's effectiveness.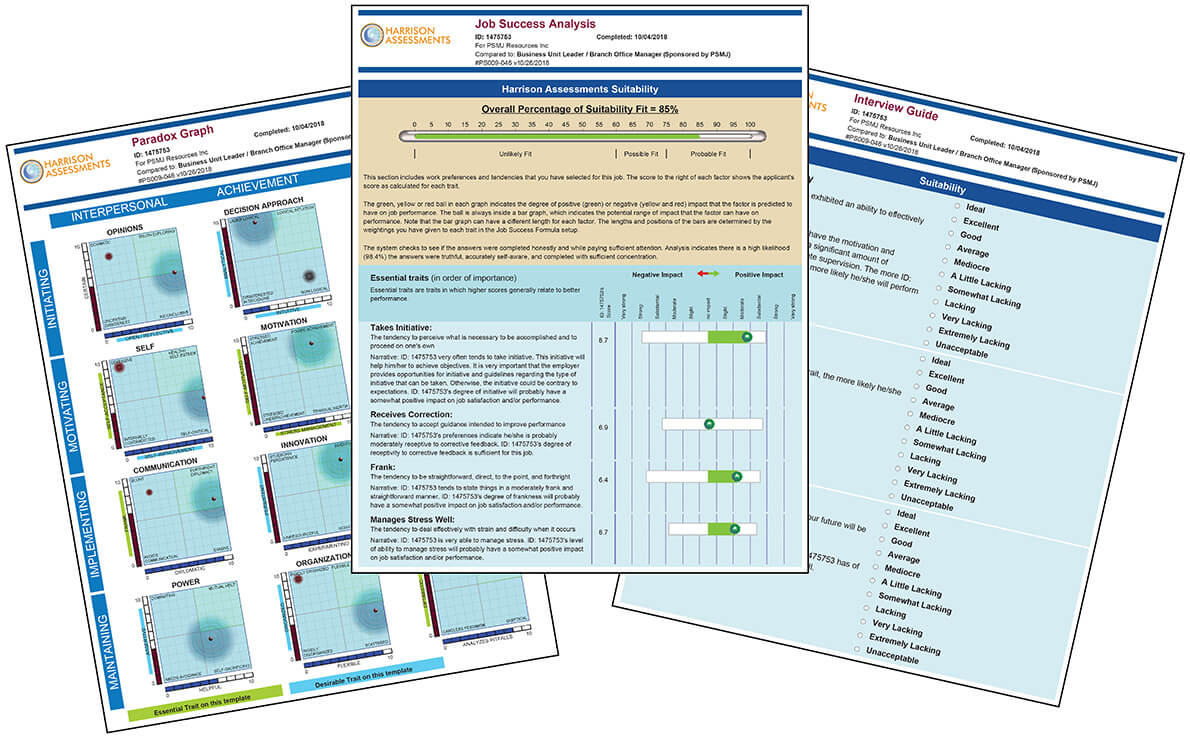 HERE'S HOW IT WORKS
The Harrison Assessment is administered online through a series of questions that requires only 30 minutes to complete. Once completed, we crunch the data, compare it to the benchmarks, and you get a concise and action-oriented report that outlines:
One simple quantitative score on the overall fit probability for the participant to the role.
Details on how the participant compares to benchmarks on specific traits.
What areas of training and development can have the greatest impact for the participant.
This data allows you to flag skills gaps and pinpoint the support a newly-minted or experienced business unit leader will need to be successful. Nowhere else can you get this kind of industry-specific data to get the most impact from your personnel investments.
GET STARTED TODAY!
Our exclusive A/E Business Unit Leader Harrison Assessments are available on an individual basis or at attractive group rates. To learn more about how to put this tool to work for your firm, click on the button below.

To explore more A/E/C leadership training options and resources, please click here.