Access the newest training from the worldwide leader in A/E/C project management…anytime, anywhere.
PSMJ's library of interactive and expert-led online learning courses put powerful learning opportunities right at your fingertips. Our courses cover virtually every facet of A/E/C project management to teach you new skills, advance your career, and get you one continuing education credit for each course (when you pass the ten-question quiz).
Our newest online learning courses — for both new and experienced Project Managers alike — are delivered in an interactive and engaging format to ensure you get action-oriented strategies and tactics that you can really use.  Course titles
There are four suites of courses within the Best Practices in A/E/C Project Management series:
Best Practices in A/E/C Project Management

SUITE NO. 1—Project Leadership

Courses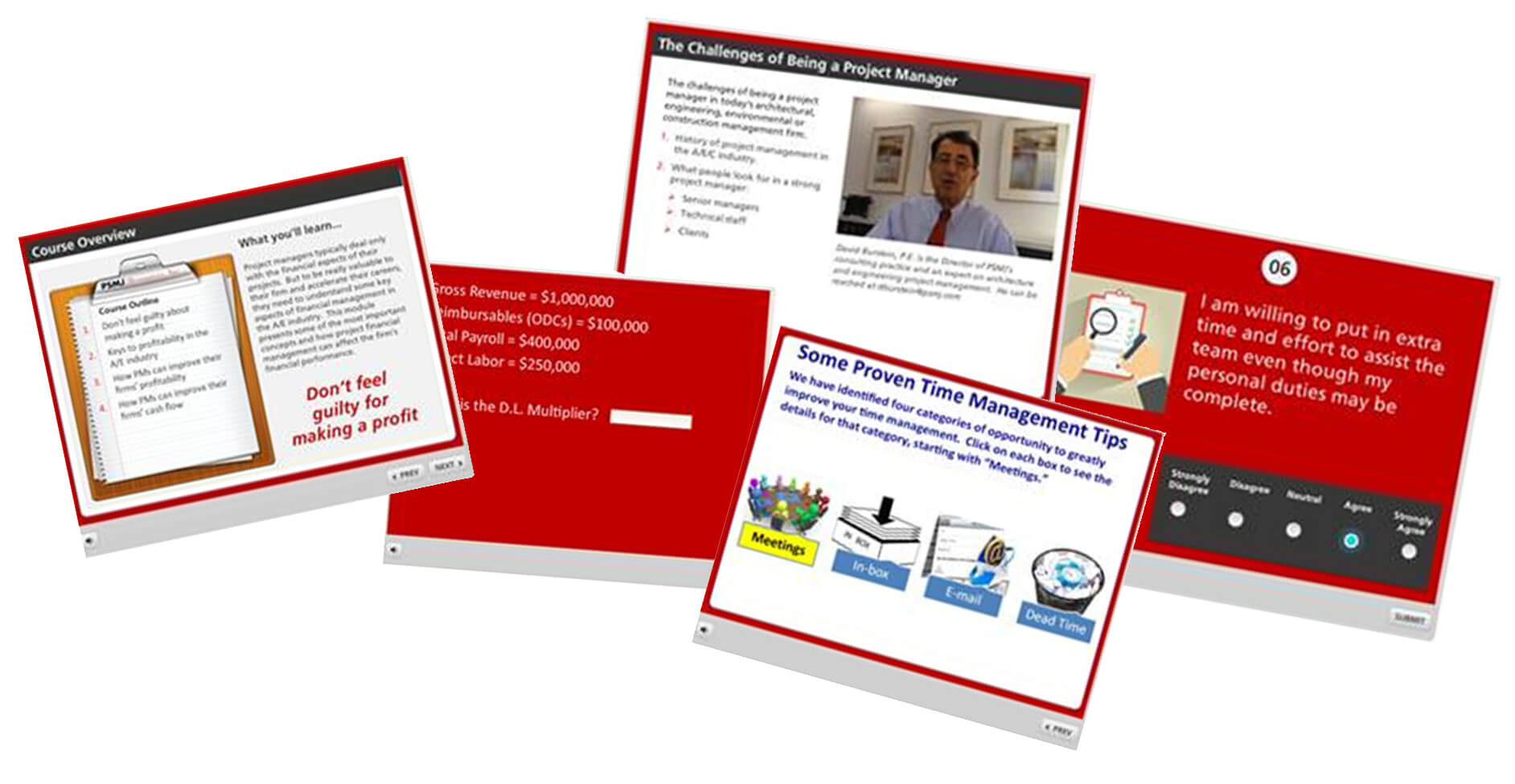 Courses
SUITE NO. 3—PLANNING THE PROJECT
(Available Now)
Courses
SUITE NO. 4­—MANAGING THE PROJECT – Summer 2017

What makes PSMJ's ALL-NEW online learning courses different?
Not all e-learning courses are alike.  If you are currently looking to general training providers like PMI or elsewhere, stop now! Here are 11 reasons why PSMJ's e-learning courses are unlike anything else on the planet:
Our online learning courses are built specifically for architecture, engineering, and construction project management.
Unlike generic courses on project management that cover a wide range of industries (with hardly any real-world A/E/C PM skills), our courses give you tools you can use.
Each and every course earns you continuing education credits (upon passing an exam).
Save thousands of dollars in hotel, airfare, and meal expenses…and spend more time with your family!
Learn directly from world-renowned A/E/C project management experts.
Get immediate improvement in client satisfaction, proposal hit rates, project contracts, invoicing, collections, firm profitability, and more…guaranteed.
Get instant feedback and results through real-time exams and Knowledge Checks.
These are the only e-learning courses approved for A/E/C Project Management Association member continuing education credits.
Start and stop each course at your own pace…even take all of the courses in your pajamas!
Bring your team of Project Managers together in the conference room monthly to learn from each e-learning course and get everyone on the same page.
Find out why thousands of A/E/C Project Managers look to PSMJ every year to get better at what they do!
You also get best-in-class interactivity through:
Videos featuring our project management experts to better articulate key points
Knowledge Checks to provide quick mid-course non-graded quizzes
Interactive charts and graphics to further drive home complex topics
Does PSMJ offer group pricing or enterprise learning solutions? 
Yes!  Some of the A/E/C industry's most successful organizations look to PSMJ to support their own corporate universities and other in-house training efforts.  Contact us to learn more about how you can use our courses (on our LMS or yours) to support your team.

Can I still find PSMJ's text-based Ultimate Project Management Manual online courses?
For years, many A/E/C professionals have leveraged our best-selling text-based online courses (based on our popular Ultimate Project Management Manual) to sharpen their project management skills.  Unlike our newest interactive and updated courses, these courses cover all of the basics of project management in a simple and to-the-point format.  These courses are also a fast and easy way to earn continuing education credits (subject to earning a passing grade).  To access this library, you can learn more here.